| | |
| --- | --- |
| | Chemical Decomposer contains information about the MineChem mod. |

To power the Chemical Decomposer, MJ are required. Redstone engines do not work. The power can be in-putted to any side. 
WARNING remove all items from the Cemical Decomposer before destroying it. It does not drop anything that is in it.
Item Slots

Edit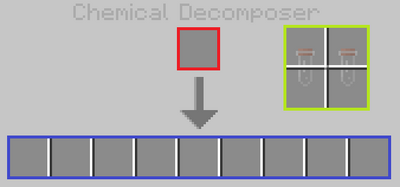 The slot in red is where you put the object or compound you want to decompose. The slot in light green is where you put your
Empty Vials
. The slot in blue is where the decomposed elements from the object or compound are created. (If there are enough 
Empty Vials
to create all of these elements).
The Chemical Decomposer is crafted with an Atomic Manipulator in the middle, redstone in the bottom middle slot, and 7 iron around the Atomic Manipulator.