This is an item added by the Soul Shards mod. If you kill monsters while this Soul Shard is in your hot bar, you will absorb their souls into your soul shard; their are 5 different tiers for soul shards. Each tier gives progressively better spawning capabilities once imbued into the Soul Cage.
How to Create a Soul Shard
Edit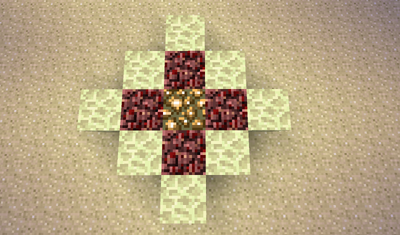 You Will Need:
8 End Stone
4 N

etherrack

1 Glowstone
1 Diamond
Arrange these blocks in the pattern shown on the right, and click on the Glowstone with a Diamond and you will receive your Soul Shard. After you receive your Soul Shard all blocks will turn into End Stone and you will have to get 4 more Netherrack, 1 more Glowstone, and 1 more Diamond to craft another Soul Shard.
Tiers of a Soul Shard

Edit
Tier 1
Requires 64 Kills
Mobs can spawn 2 at a time
Mobs spawn 20 seconds apart
Tier 2
Requires 128 Kills
Mobs can spawn 4 at a time
Mobs spawn 10 seconds apart
Tier 3
​Requires 256 Kills
Mobs spawn whether player is near or not
Mobs can spawn 4 at a time
Mobs spawn 5 seconds apart
Tier 4
Requires 512 Kills
Mobs from other worlds and that could not otherwise be found as spawners can be spawned.(Blazes, Creepers, etc.)
Mobs spawn whether player is near or not
Mobs can spawn 4 at a time
Mobs spawn 5 seconds apart
Tier 5
Requires 1024 Kills
Can be powered off with a redstone signal
Ignores light levels
Mobs from other worlds and that could not otherwise be found as spawners can be spawned
Mobs spawn whether player is near or not
Mobs can spawn 6 at a time
Mobs spawn 2 seconds apart